The Producer's Chair: Gretchen Peters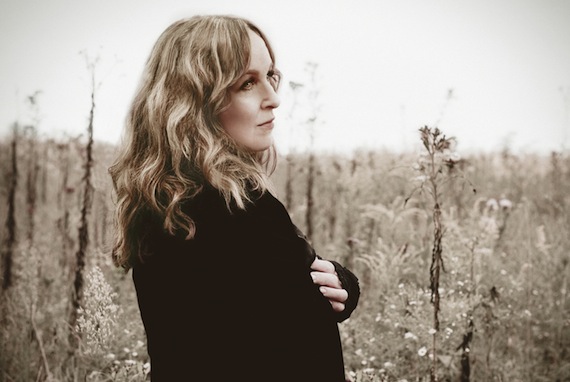 Two-time Grammy nominee Gretchen Peters appeared on The Producer's Chair on Wednesday, Feb. 4, 2015 at Douglas Corner Cafe at 6 p.m.
By James Rea 
In 2014 it became official…Gretchen Peters was inducted into the Nashville Songwriters Hall of Fame, re-confirming for those familiar with her music, her place among the greatest songwriters of our time.
In 1988 when she moved to Nashville with demos in hand, it didn't take long for the industry to recognize her talent. She had been working since the age of 13 in Boulder, Col. Diving into music after her parents divorce, she honed her vocal chops singing covers, dissecting great songs and recording every chance she got.
"I started playing guitar when I was seven," says Peters. "My parents sent me to an art camp which was heaven for a kid like me. I didn't start writing until I was in my late teens. As weird as it sounds, the songs that I learned when I started playing guitar, seemed so elemental to me: Bob Dylan songs and Beatles songs and so forth. It didn't even occur to me that I could write my own. They just seemed so big and important and part of the architecture of my world that I didn't even think about writing my own songs until I started playing in bands and I saw that other people were doing original music. I could combine two things that I love—writing and music—by writing songs. I'd been writing other things my whole life: poetry, short stories, anything but songs, basically."
Peters struck pay-dirt with her first publishing deal and then in 1991 began a 20-year run with Sony publishing. She recalls, "A wonderful man by the name of Noel Fox let me know that if I were serious about music and moved to Nashville he'd give me a publishing deal. He ran the Oak Ridge Boys' publishing company which was called Silverline/Goldline. They had Steve Earle and Gail Davies—great roster. He and his wife became some of my best friends and he has since passed away. He was so important to me in terms of being someone who recognized that I didn't fit in, in some ways. He recognized that I was very uncomfortable with co-writing and he gave me permission to not do it. He basically said, 'I like what you do, and I like what you do alone even better. This isn't a job where you come in and spend eight hours here. If you need to get in the car and drive to the beach go do that. Whatever you need to do to write, that's what I want you to do.' I'd never heard anything like that before."
Her first cut, "Traveller's Prayer," was on George Jones' duets album, with guests Sweethearts of The Rodeo. Within a year, Peters had cuts by Highway 101, whose drummer Cactus Moser had previously played with Peters in Colorado. She also scored the title cut on Randy Travis' High Lonesome album, and when she had a No. 1 with George Strait recording "Chill of an Early Fall," the flood gates opened.
She's had over 120 cuts since, by renowned artists including Etta James, Pam Tillis, Trisha Yearwood, Anne Murray, Neil Diamond and The Neville Brothers. Bonnie Raitt recorded Peters' "Rock Steady" which she co-wrote with Bryan Adams. In 1995, Gretchen received a Grammy nomination and CMA Song Of The Year Award for Martina McBride's "Independence Day." In 1996 she earned Grammy and ACM nominations for Patty Loveless' "You Don't Even Know Who I Am" and a "Nammy" (Nashville Music Award) for Best Songwriter. A 2003 Golden Globes nomination followed for her song "Here I Am," from the DreamWorks film Spirit, Stallion of the Cimarron.
While touring incessantly, Peters has released seven studio albums of her own. The title track of her 1996 debut album The Secret of Life (Imprint Records) was a hit for Faith Hill. 2011 saw the release of the live DVD Wine, Women & Song with pals Suzy Bogguss and Matraca Berg.
Peters will be honored by the Country Music Hall of Fame and Museum's Poets and Prophets discussion series on Jan. 24. Her Blackbirds CD release party will be Feb. 27 at the Franklin Theater, kicking off her run on the east coast and U.K. tour.
The Producer's Chair: How did it feel when you stepped on stage and started singing your own material for the first time?
Gretchen Peters: I loved singing covers, because I was singing music that I loved. I was doing songs by Rodney Crowelland Gram Parsons instead of the urban cowboy songs that were really popular. That's probably why my band never did very well. But I noticed that people grew quiet when I sang my own songs and I was able to get their attention in a different way.
My band was a pretty hard rocking band. I didn't really have the voice or songs to carry it off, but it was a good training ground for ten years. Even though the songs that I was writing were much more on the gentle, acoustic side and I was playing three or four of them a night in a club, I wasn't really cultivating that side of my music yet. But I think both things were equally valuable—you're learning the DNA of a great song.
When did you come to the conclusion that co-writing was not the answer, for you?
During a lot of those initial meetings, where I was trying to get people to listen to my songs, I heard two things a lot. Number one was, "You need to co-write." Nobody ever really says why. They just say that you need to. The other thing that I heard was, "Do you want to be a singer or do you want to be a songwriter?" I heard equal opinions on either side as to which I should do. I was utterly baffled by that because to me every single artist that I loved was a singer and a songwriter. I wouldn't have separated the two things in my mind in a million years. It's like I always say—think about Paul Simon or Joni Mitchell. Are they singers or songwriters? Well, you can't separate that. After a couple of fairly disastrous attempts at co-writing with people just because they were having some success, there was no organic reason to be in a room with them except that somebody sort of pushed me in that direction. I found that I just froze, because the way I naturally write feels like a very private act to me for the most part. Eventually I started having success with songs that I'd written by myself. That was validating.
When you signed with Sony you were about 35 years old. And you released your first album on Imprint in '96 at 38. Did you ever have a sense at any point that you arrived too late?
I was aware of that, but there is something in me that refuses to ask permission. I felt like, "this is what I'm going to do and if you can help me, I welcome and appreciate your help, and if you can't, get out of my way."
When did you produce your first full-blown session?
I was producing long before I knew that's what I was doing. Part of me thought that [professional] producers had secrets that I didn't know, therefore I wasn't a producer. It was a very slow development of my own confidence. And there's an element of being a woman in the studio that was an extra obstacle. I remember one of my very first demo sessions, before I started playing guitar on my own demos. We had another guitar player because that's what you did, you hired a full band and you got a guy who had perfect timing and played rhythm guitar perfectly. And he was dismissive of my abilities and I think he had a problem being told what to do, or even having suggestions made by a woman. It was quite unpleasant. In terms of technical skills, maybe I couldn't keep perfect time and didn't read charts as quickly, but I realized that by God, when I played guitar onmy own songs, the rest of the band members would follow my lead and the song ended up sounding more like me. So that's when I took the bull by the horns, when I was in my mid-30s. But it wasn't until I made the record Burnt Toast & Offerings that I felt like I owned my abilities.
Was there ever a time when you could see yourself producing other artists?
Yes, I remember hearing a singer/songwriter that I loved up in Canada, and having a gut-level, instinctive feeling that I could produce a really good album on this guy. And I would really love to do that. Unfortunately, that happened at about the same time as my touring career started taking off and I was releasing albums with much more frequency and the problem would be finding the time. For me it's a lot like co-writing, in that it really has to be the right person.
When you demoed "Independence Day," did you sing the demo?
I played it and sang it. The track was along the lines of Springsteen or Steve Earle with more of a straight-ahead rock feel. I had two cuts on that album by Martina, the other was "My Baby Loves Me."
I sang all my own demos unless it was obviously a song for a man. It was very, very late in my career when somebody told me that male artists don't like to listen to demos that are sung by females and that I should consider having a guy re-sing some of these songs. I was floored. A male artist can't imagine singing a song, just because it's being sung by a woman?
I think it's evidence of my basic stubbornness. One of the main reasons I was singing my own demos was because, in my heart and soul and mind, I was practicing making records. It was an opportunity to be in the studio and see what you could make. I didn't want to get into the assembly line of writing songs and then plugging-in the hot demo singer of the day, because it would rob me of an opportunity to go in there and learn something.
I'm not as prolific as a lot of people, in terms of my songwriting output. For the many years I was at Sony and many years before, I was writing 12 to 15 songs a year, but I was writing them all by myself, when a lot of people were writing 50 songs a year. But I had a high batting average. I edited myself to point where only the pretty good ones got out. So, of those 12 to 15 songs a year, I had a lot of success with many of them. There was a demo session where I did four songs and three of them became hits.
How do you get the best vocal performance out of yourself?
For me the most important thing is to get out of the way of the words. You can't forget that you're telling a story. When I'm performing live, my mantra is "let the song sing itself." You can deliver a song in a whisper if you are focused on the lyrics. I think a lot of young singers who are gifted with great vocal ability have a hurdle to overcome in that they have to learn not to love the sound of their own voice, not to sing all the licks just because they can. The voice is a delivery system for the song. It's a conduit to the emotion inside you.
Your husband/co-producer and longtime piano player Barry Walsh said, of his third solo effort, Silencio, "The whole idea for this recording was to find the space between the notes." How has working with that level of musician affected your music?
His sense of space was what made me fall in love with his playing 25 years ago. I think he played on my second or third demo session around 1990, and I never called another piano player after that. He knew what NOT to play. And when we played together live, we had this intuitive, unspoken thing, where we would create a big hole and let the audience sort of fall into it—that's the power of space. If you know when not to play, it draws people in. Our sense of dynamics together is one of our greatest strengths, and it's not something you find with every musician you play with. We play together as if we're breathing together. It's magic.
What advice do you give to unsigned songwriters?
Young songwriters need someone to advocate for them, to encourage them to be themselves, to resist the urge to conform because they think that's the way to success. I'm talking about artists here—not artists in the music business sense—but artists in the sense of people who make art. Those kind of songwriters. I don't have any advice for people who want to write hits. For me it was an accident every single time. It was a by-product of my need to write. I want to encourage and advocate for young writers who are trying to achieve greatness beyond tallying up hits. Songs can be so much more than entertainment—there are songs that have literally changed my life. For the young writers who aspire to write those kind of songs, I say keep going, put your nose down, work hard and follow your instincts. Listen to great songs, and then listen to your gut.
Do you put pressure on yourself to write about subjects that haven't been written about?
I try not to put any pressure on myself from an editorial point of view, when I'm in the beginning stages of writing. You can kill a song by over-intellectualizing it. And besides, there are always new ways to write about old subjects. Shakespeare supposedly said there are only seven stories. We've been telling those seven stories over and over again for thousands of years. The key is not to tell a new story but to tell your truth, which will always be someone else's truth because we are all suffering from the same condition: humanity. The only pressure I put on myself is to let the song tell me what it wants to be. And to be honest—uncomfortably honest—if possible. I know when I'm onto something, because if it feels slightly uncomfortable that means I'm getting close to the bone.
"On A Bus to St. Cloud" has been cut by several artists. Have their interpretations unveiled emotions that you didn't have when you wrote it?
I have that epiphany all the time with "On A Bus to St. Cloud." Jimmy LaFave's version was a revelation to me—the freedoms he took with the song, the emotional cast of it. I think that's a measure of the quality of a song, how much you can discover within it and for how long. In the case of "St. Cloud"I have never gotten tired of singing it, even after 20 years. I still find new things in the lyric. Not all songs can stand up to that treatment. The best ones can.
How did you cultivate a U.K. fan base?
I started touring the U.K. after my first album came out in 1996. A friend of mine, who played with Nanci Griffith (who had a large following in the U.K. and Ireland), told me to go. He said, "they'll get you." And he was right. I was invited to come over by my record label there because my first album had done surprisingly well—unlike here in the U.S. I did about four shows, and I felt a connection with audiences there instantly. So I kept coming back. That was key. A lot of artists tour the U.K. and then don't go back, and they wonder why they're not playing bigger venues. But it's a market unlike any other; you have to nurture it. I owe a great deal to the audiences in the U.K. because they sustained me at times when I had little else going on. They saw me the same way I saw myself: as a singer-songwriter. They didn't care so much about the hits I'd written—although they were happy to hear those—as much as who I was as an artist. When Hello Cruel World came out in 2012, it did extremely well; we stepped up another level and started playing much bigger venues. That growth has continued with this upcoming tour. But you have to keep in mind this is probably my fifteenth or sixteenth U.K. tour.
What song have you yet to write, that has been haunting you the longest?
It's very odd that you would ask because the day just passed. There's a song that I have been writing for ten years called "The Last Day Of The Year" and for the last seven or eight years, I only look at it on New Year's Eve. I pick it up on Dec. 31st and I work on it a little bit. One of these years it will be finished.
If you had it all to do over, what would you do differently?
There are things that I wish I had known earlier. I wish that I'd had more confidence in myself and my own convictions earlier and not thought that everybody knew more than I did. But in the end, I'm not so sure that really matters. There's a certain amount of wisdom that I have that I couldn't have acquired any other way.
Latest posts by contributor
(see all)
https://musicrow.com/wp-content/uploads/2015/01/GretchenPetersBlackbirdsPressPhoto1.jpg
382
570
contributor
https://musicrow.com/wp-content/uploads/2019/03/MusicRow-header-logo-Mar19B.png
contributor
2015-01-23 10:30:24
2015-01-23 10:30:24
The Producer's Chair: Gretchen Peters